Available for Sex
- find new casual sex partners
---
Available for Sex is the easiest and most straight forward way to find casual sex. Why spend money on an escort when you can shag your neighbour for free! We have thousands of members from all over the UK so you should be able to find someone looking for casual no-strings sex living near you! Whether you are married, single or in a relationship - if you want to find a new casual sex partner for no-strings sex or a casual fling create your profile and browse members near you right now.
As more Brits are looking for free, easy and quick sex we have made it our goal to provide a safe and secure environment to meet people. We also understand that people do not want to be tied down to one website or app and dont want to be committed to an ongoing monthly payment or contract so Available for Sex is 100% subscription free and free of any monthly charges or fees.
Areas currently being viewed by members:
PROFILES ARE UNCENSORED IN MEMBERS SECURE AREA
The Sex Survey
We recently conducted a survey of British people's relationship habits. These are the results: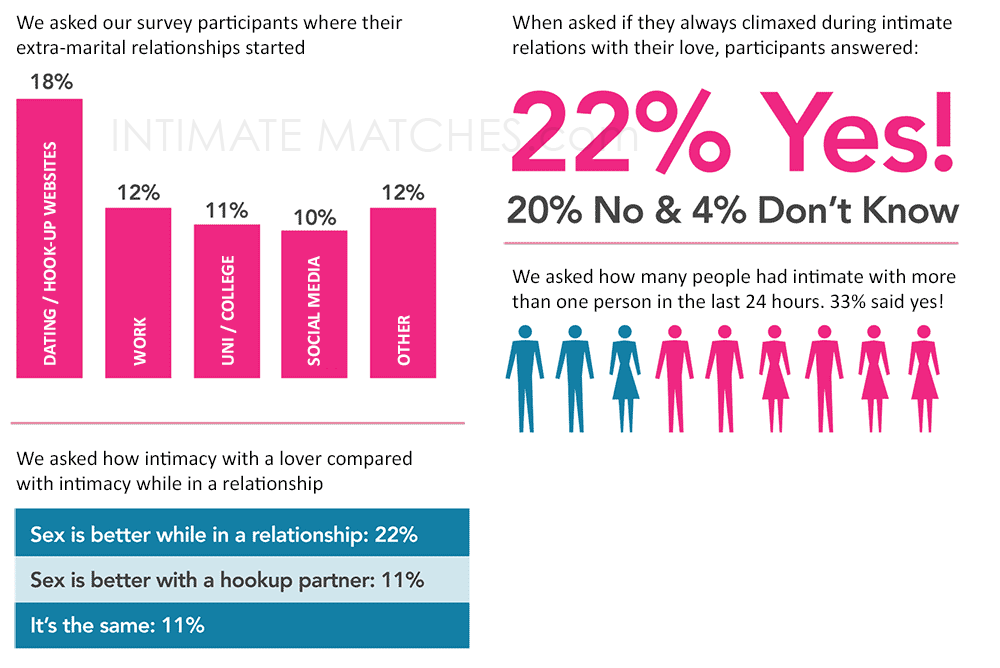 This survey was conducted by a third-party.
Why should you join?
SAFE & ANONYMOUS
Our technical team continuously ensure that our servers remain secure and up-to-date meaning your data is protected and safe. We provide all our members with total anonymity allowing them to meet other members in safety without giving unnecessary person and sensitive information. We will never give our your details or personal data and we never sell or share member information with any third-parties. Using Available for Sex means you can safely find sex online.
VERIFIED PROFILES
Confidence about whether profiles are genuine has become a concern for many people social media networks and casual sex dating websites so we have introduced true member verification which means members are verified as genuine or given explicit approval by other members using the website. Members are encouraged to verify a member once they have met in person or once they are satisfied that they are genuine.
MOBILE / DESKTOP / TABLET
We want you to be able to access and use our website easily and where ever you are. You will be guaranteed full access whichever device you happen to be using. We are fully mobile and tablet compatible as well as desktop and laptop computers.
DATA PROTECTION & SECURITY
Security and protection of data is of vital importance to us and to our members so all our servers are protected and secured by the latest industry standard dedicated physical/hardware firewalls as well as industrial-grade software firewalls and anti-virus systems so your data is fully protected. Our datacentres are among the most advanced and secure available outside military installations.
All our servers are also certified by AVG and Google to ensure our protection is effective and current. Our website and secure areas are also protected by SSL meaning all data transmitted is encrypted and protected. Click here to find out more.
CLICK HERE TO TRY FOR FREE NOW!
"This year saw a dramatic rise in the number of casual and extra-marital relationships in the UK which has been linked to the increasing use of dating apps and websites..."






Website features:
We have and advanced team of coders and web developers who continuously update and add new features to the website. Some of our features include:
1. Full compatibility with all devices allowing full access where ever you are.
2. Member Verified profiles and members.
3. Anonymous, secure and discreet access.
4. Discreet and secure private messages.
5. Location search
6. Secure servers protecting your data with SSL and hardware firewalls.
Verified members
Internet users are increasingly becoming concerned about whether profiles are genuine/real when using social media networks and dating websites which is why we have implemented a true member verification system which means members are verified as genuine or given explicit approval by other members.
Members are encouraged to verify a member once they have met in person or once they are satisfied that they are genuine.
Is your data safe?
In a word, YES. We data secuirty and protecting your data very seriously. All our servers are protected by a military grade software and hardware firewall as well the latest anti-virus software.
Our websites also use SSL which encrypts all data transmitted to and from our website. We also carry our regular checks to ensure your data is safe and secure.
Click here for more information about our SSL certification.